You know, I remember when Italian charm bracelets first came out. They were kind of sleek and tony, like a Ferrari or possibly a string of silver Chiclets. Then Betty Boop and I ♥ Grandma crept in, and now they have devolved to the final indignity — the Peeps™ logo charm.
Can there be so many heirs to the Peeps™ fortune that they can support sales of this charm? And if not, who buys them? And is that glitter in the enameled marshmallow representations?
My search for a Krusty the Clown Italian charm led me to this non-Italian charm bracelet featuring 37 gold-plated Simpsons characters. Now this would be tempting, if not for the $200 price tag.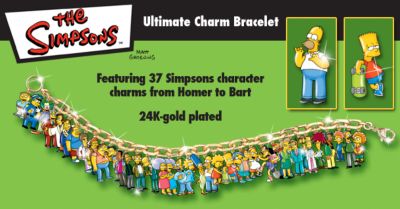 Hey! I clicked on the enlarged picture at the Bradford Exchange's site, and Maude Flanders is missing! WTF? And can anyone tell me who the disco guy is, eighth from the left?
Tags: Italian charm bracelet, jewelry, marshmallow, Peeps, Simpsons, Things I didn't buy on eBay